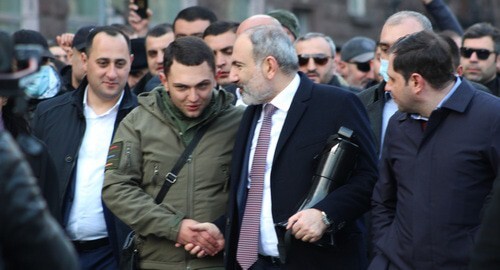 26 February 2021, 23:59
Pashinyan's position weakened by low authority in Armenian army
Nikol Pashinyan's conflict with the leaders of the General Headquarters of the Armenia's Armed Forces has revealed the Prime Minister's low authority in the army and the generals' ties with the previous authorities, political analysts note. The statements voiced by Nikol Pashinyan could not but cause a negative reaction in Russia, but they were directed against the previous authorities of Armenia, observer Akop Badalyan suggests.
The "Caucasian Knot" has reported that on February 23, Nikol Pashinyan called the Iskander missiles systems acquired from Russia combat-ineffective. Experts note this is an unfounded claim to Russia, and only a person with insufficient knowledge about modern arms could call the Iskander missile systems outdated weapons. The statements voiced by Nikol Pashinyan threaten the Armenian-Russian relations, suggests opposition leader Vazgen Manukyan.
The martial law has not yet been lifted in Armenia, but the Chief of the General Headquarters of the Armenia's Armed Forces, as in peacetime, remains the highest military official, expert Robert Nazaryan emphasizes. The expert notes he does not remember any cases when a chief of the General Headquarters was dismissed for criticizing the authorities.
Nikol Pashinyan's authority in the army has grown due to the increase in the salaries of the military personnel, but in general, it has never been high, believes Naira Airumyan, an editor of the "Lragir.am".
The generals are generally conservative and do not accept the new leaders of the country in a very positive way, says political analyst Akop Badalyan. According to him, any political statements, such as calls for the Prime Minister's resignation, are unacceptable for the General Headquarters of the Armenia's Armed Forces.
Nikol Pashinyan accused the General Headquarters of an attempted military coup d'etat. The generals are likely to intervene in the situation if the President of Armenia approves the resignation of the chief of the General Headquarters or in case of the violent suppression of protests, political analysts predict.
This article was originally published on the Russian page of 24/7 Internet agency 'Caucasian Knot' on February 26, 2021 at 06:35 pm MSK. To access the full text of the article, click here.
Author: Armine Martirosyan Source: CK correspondent