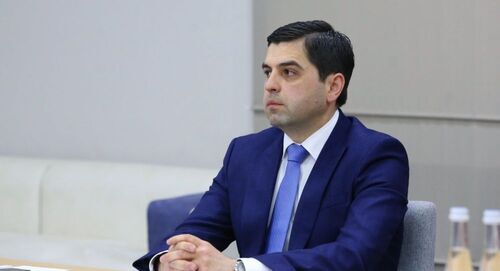 23 March 2021, 17:21
Deputy chief of Georgian police resigns after scandalous TV broadcast
Kakha Sabanadze, Deputy Minister of Internal Affairs of Georgia, is leaving his post after the "Mtavari Arkhi" TV Company has made public an interview with a former law enforcer who spoke about secret surveillance of political and religious leaders.
The "Caucasian Knot" has reported that in Georgia, the situation has worsened against the background of the parliamentary elections held on October 31, 2020. The authorities and the opposition failed to reach a compromise on the release of political prisoners. On February 23, in Tbilisi, the police carried out a special operation to detain Nika Meliya, the leader of the opposition "United National Movement" (UNM) Party. On February 18, Georgian Prime Minister Giorgi Gakhariya announced his resignation in connection with the non-execution of the court's decision on the detention of Nika Meliya. On February 22, Irakli Garibashvili was appointed the Prime Minister of Georgia.
Kakha Sabanadze has explained that his resignation will contribute to an unbiased investigation into the information disclosed in the interview of the former employee of the Georgian State Security Service, the "InterPressNews" reports.
In the interview released by the "Mtavari Arkhi" TV Company, the former law enforcer spoke about the orders received during the protests in June 2019, as well as about the surveillance of political and religious leaders. According to the interviewee, in 2014, he got the instructions to enter the house of lawyer Ana Dolidze and install surveillance cameras. The cameras were removed after they had got a video with her private life, the "Georgia Online" reports.
Furthermore, the former special service officer said that he launched a virus into a PC of Vagif Akperov, Sheikh of the Georgian Muslim Board, in order to obtain personal information. The former law enforcers also added that during the rallies, he was instructed to set fire to a monitor, which broadcasted the protest actions.
This article was originally published on the Russian page of 24/7 Internet agency 'Caucasian Knot' on March 23, 2021 at 11:25 am MSK. To access the full text of the article, click here.