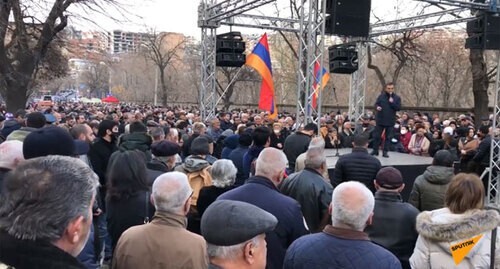 29 March 2021, 10:47
Rally in Yerevan treats Pashinyan's formal resignation as unacceptable
The oppositional "Movement to Save Motherland" will seek the actual resignation of Nikol Pashinyan from the post of Prime Minister, participants of the rally held in central Yerevan have stated.
The "Caucasian Knot" has reported that starting from November 2020, in Yerevan, the opposition has been holding rallies with the demand of the Prime Minister Nikol Pashinyan's resignation. The opposition considers Nikol Pashinyan responsible for the transfer of the territories of Nagorno-Karabakh to Azerbaijan.
On March 28, the above movement held a rally at the intersection of Bagramyan Avenue and Demirchyan Street. The opposition decided to divide is actions into three stages, Ishkhan Sagatelyan, coordinator of the movement and one of the leaders of the ARF "Dashnaktsutyun", announced at the rally.
According to his story, at the first stage, the opposition will hold meetings in regions, trying to mobilize people for large-scale protests. At the second stage, the opposition plans to ensure that Nikol Pashinyan resigns not only formally, but also factually, Mr Sagatelyan has explained.
The opposition supposes that Pashinyan's resignation will take place between April 22 and May 7, after which "everything must be done within 14 days so that de jure resignation becomes de facto one," Ishkhan Sagatelyan has added. "If at this stage, for some reason, we fail to achieve our goal, then the electoral stage will begin," the "News.am" has quoted him as saying, adding that after the rally, its participants marched from the parliament building along Bagramyan Avenue. The march was several thousand residents of Armenia strong.
This article was originally published on the Russian page of 24/7 Internet agency 'Caucasian Knot' on March 28, 2021 at 05:24 pm MSK. To access the full text of the article, click here.