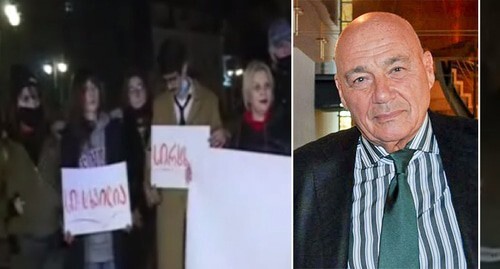 01 April 2021, 14:28
Posner leaves Georgia amid protests
The Russian journalist, Vladimir Pozner, has flown out of Tbilisi amid the protests organized by citizens demanding from him to leave the country. A similar demand was voiced at the protest action held this night by Batumi townspeople.
The "Caucasian Knot" has reported that a protest action began in Tbilisi in the evening on March 31 against Mr Pozner's arrival in Georgia. Protesters demanded from him to leave the country, as he had spoken out against its territorial integrity. They also posted a petition on the "change.org" portal calling to ban Pozner from entering Georgia.
As of 9:00 a.m. Moscow time on April 1, the petition raised 940 signatures.
Vladimir Pozner and his guests left the hotel through the police cordon, the Georgian Channel One has reported on its website today. Protesters escorted them to the airport and dispersed after making sure they had left the country, the RIA "Novosti" has reported today.
At night on April 1, residents of Batumi also took part in a protest action against Vladimir Pozner's arrival in Georgia. In particular, activists of the "Alternative" movement gathered in the city square and expressed solidarity with the protesters in Tbilisi, the "Rustavi-2" TV Channel has reported on its website today.
This article was originally published on the Russian page of 24/7 Internet agency 'Caucasian Knot' on April 1, 2021 at 09:08 am MSK. To access the full text of the article, click here.