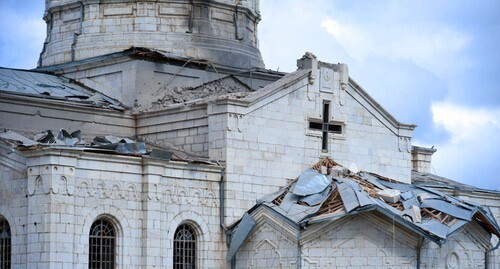 04 May 2021, 13:50
Dismantling of church domes in Shusha sparks concern in Nagorno-Karabakh
In the city of Shusha that came under Azerbaijan's control after the last autumn Karabakh conflict aggravation, the domes of the Surb Kazanchetsots Church were dismantled. The city may lose its Armenian appearance, residents of Nagorno-Karabakh are concerned.
On May 3, photos of the Cathedral of the Holy Christ the All-Saviour (Surb Kazanchetsots) in Shusha (the old Armenian name is Shushi) appeared in social networks, showing that the dome was removed from the temple.
Gegam Stepanyan, the Ombudsperson of Nagorno-Karabakh, has announced an attempt to erase the Armenian presence in the city.
"The aim is to liquidate the Armenian presence and traces in the occupied territories," the Ombudsperson has stated.
Sergey Shakhverdyan, Chairman of the Public Council for the Protection of Karabakh's Cultural Heritage, has called to urge Russia to protect the monuments of Armenian culture.
"It's a pity that neither the Armenian party, nor the international community, nor the Russian peacemaking contingent can influence the actions of the Azerbaijani party," said Artyom Pogosyan, a forced migrant from Shusha.
Nina Atadjanyan said that three of her children were baptized in the Surb Kazanchetsots Church. "It pains me very much that we allowed our spiritual monuments to be mocked at," she said.
This article was originally published on the Russian page of 24/7 Internet agency 'Caucasian Knot' on May 4, 2021 at 02:25 am MSK. To access the full text of the article, click here.
Author: Alvard Grigoryan Source: CK correspondent