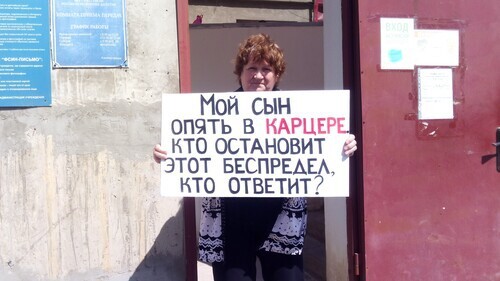 09 May 2021, 12:05
Mother of Dagestani resident accused of terrorism demands to return her son from dungeon back to cell
The mother of Islam Barzukaev, a resident of Derbent, accused of terrorism, has held a picket against the placement of her son into the dungeon (punishment cell). Islam Barzukaev and Gasan Kurbanov, arrested within the same case, need medical care, a member of the Public Oversight Commission (POC) of Dagestan has stated.
The "Caucasian Knot" has reported that relatives of the Derbent residents, Islam Barzukaev, Gasan Kurbanov and Mirzaali Mirzaliev, regularly hold pickets in Makhachkala in support of the young men. The mother of the third defendant, Mirzaali Mirzaliev, claims that law enforcers demand from him to incriminate Barzukaev and Kurbanov. On February 19, 2021, the women named four law enforcers, who are believed to be involved in torturing the defendants.
According to investigators, Barzukaev, Kurbanov and Mirzaliev created an armed grouping to "encroach on law enforcers and provide armed resistance." The relatives assert that before the arrest, all the three had been kidnapped; and they had been forced to confess under torture.
"They place my son, brutally disfigured by torture, into the dungeon, while he needs medical care," Ms Barzukaeva has stated, noting that she had earlier complained to the prosecutor's office about her son's placement into the dungeon, but the checks revealed no violations.
This article was originally published on the Russian page of 24/7 Internet agency 'Caucasian Knot' on May 8, 2021 at 03:50 pm MSK. To access the full text of the article, click here.
Author: Rasul Magomedov Source: CK correspondent