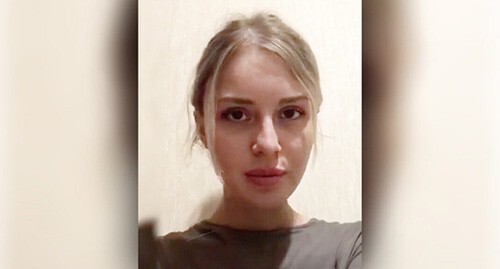 11 June 2021, 22:43
Khalimat Taramova asks for help because of threat to her life
Khalimat Taramova, a daughter of one of the Ramzan Kadyrov's close associates, had to flee Chechnya to save herself from domestic violence to which she was subjected because of her sexual orientation. In Chechnya, the young woman faces murder for "washing dirty linen of the family in public," an activist from the "Russian LGBT Network" suggests.
The "Caucasian Knot" has reported that on June 10, policemen from Dagestan and Chechnya came to a Makhachkala shelter apartment for women who suffered from domestic violence. The law enforcers were looking for the young woman from Chechnya who fled from her relatives because of the beatings, human rights defender Svetlana Anokhina reported. She and several other people were taken away from the shelter apartment. The policemen took Khalimat Taramova away to Chechnya.
The 1Adat Telegram Channel posted a video in which the young woman says that she voluntarily left her family, where she was subjected to domestic violence. "Today is June 6, 2021. I, Khalimat Ayubovna Taramova, voluntarily left home to flee from regular beatings and threats. Please do not put me on the federal wanted list and do not disclose any information about my whereabouts, as those actions will pose a threat to my life," the young woman says on the video.
Khalimat Taramova is a daughter of Ayub Taramov, the director of the "Grand Park" Shopping Centre, one of the confidants of Chechen leader Ramzan Kadyrov. It was for her when the policemen from Grozny came to Makhachkala, the "Kavkaz.Realii"* reports today.
"I was subjected to violence by my parents and by my husband. I was refused in divorce. I have been married for five years. And when anything goes wrong, they immediately beat me. At one point I thought that it was unsafe for me to stay here any longer, because there was a threat to my life, not just violence. They warned me: 'If you decide to run away, you will be found, brought back, and killed," the "Kavkaz.Realii"* quotes Khalimat Taramova as saying in her interview. A fragment of the interview with recorded before her kidnapping.
Khalimat Taramova fled Chechnya after facing beatings and threats because of her sexual orientation. The young woman left Chechnya and addressed the "Russian LGBT Network" for help, Veronika Polyakova, the coordinator for international activities of the "Russian LGBT Network", reports today. While staying in the Dagestani shelter, Khalimat Taramova was waiting for an opportunity to move to a safe place.
Khalimat Taramova is likely to face a "trial of honour" for "washing dirty linen of the family in public" by asking for help publicly, the "Dozhd" (Rain) TV Channel reports.
* The organization is included by the Russian Ministry of Justice (MoJ) in the register of non-profit organizations-foreign agents.
This article was originally published on the Russian page of 24/7 Internet agency 'Caucasian Knot' on June 11, 2021 at 06:52 pm MSK. To access the full text of the article, click here.
Author: The Caucasian Knot