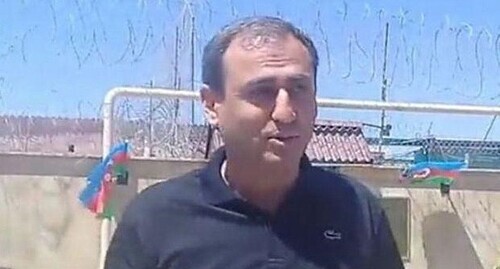 03 July 2021, 13:00
Afghan Sadygov stops his long hunger strike
Afghan Sadygov, a journalist convicted in Azerbaijan under an extortion case, has agreed to his relatives' persuasions and stopped rejecting food on the 240th day of his protest hunger strike, his wife has informed.
The "Caucasian Knot" has reported that on November 3, 2020, Afghan Sadygov, the editor-in-chief of the "Azel.tv" portal, was sentenced to seven years in prison for extortion. He had been on a protest hunger strike since November 3, 2020. The Azerbaijani Supreme Court (SC) partially satisfied the journalist's complaint by reducing his prison term from six to four years. Given his health condition, his wife treated this SC's decision as the "death sentence."
"I convincingly asked Afghan to stop his hunger strike and start eating on his own ... I also conveyed a request of his mother and brother to stop the action, asking him to think about our two daughters. After our conversation, he decided to stop the hunger strike," his wife, Sevindj Sadygova has informed.
During his hunger strike, Afghan Sadygov lost 55 kg in his body weight, Ms Sadygova has added. "Before his protest action, his body weight was 95 kg ... Now, it's scary to look at him. He can't move independently," she said.
She has assured that the struggle for the restoration of her husband's rights will continue.
This article was originally published on the Russian page of 24/7 Internet agency 'Caucasian Knot' on July 2, 2021 at 11:04 pm MSK. To access the full text of the article, click here.
Author: Faik Medjid Source: CK correspondent