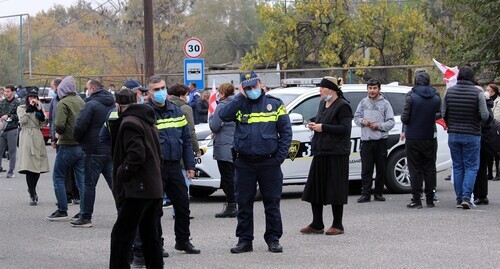 10 November 2021, 23:34
Court hearing on Saakashvili's case held in his absence
Despite a court's request to bring Mikhail Saakashvili to the trial, the special penitentiary service refused to do that, fearing an attack by the opposition on a convoy car.
The "Caucasian Knot" has reported that Mikhail Saakashvili declared a hunger strike in prison, and on October 8, it became known that he was transferred to a prison hospital. Mikhail Saakashvili claimed he did not consent to the transfer and that he was beaten after he had been taken to the hospital. The Georgian State Inspector's Service has launched an investigation into the circumstances of the Mikhail Saakashvili's transportation to the prison hospital.
The special penitentiary service refused to transfer third president of Georgia Mikhail Saakashvili to a court hearing in the afternoon of November 10. "Some members of the opposition parties planned to block roads with their own cars," the special penitentiary service claimed in its message sent to the "Caucasian Knot" correspondent on November 10. According to the penitentiary service, the opposition planned to involve 500-600 cars in the action and that "would cause an uncontrollable situation and chaos and would interfere with the process of transferring Mikhail Saakashvili to the court hearing." Moreover, the transportation is an additional risk to the Mikhail Saakashvili's health, since he refused to take medications, the special penitentiary service explains.
According to advocate Bek Basilaya, the authorities are "afraid of the Mikhail Saakashvili's appearance in court." "They (the authorities) are waiting for Mikhail Saakashvili to be in such physical condition when he really will not be able to move. They are waiting for a decrease in the intensity of street protests and for people leaving the place of protest," said advocate Bek Basilaya on the air of the "Mtavari Archi" TV Channel as translated from the Georgian language by the "Caucasian Knot" correspondent.
This article was originally published on the Russian page of 24/7 Internet agency 'Caucasian Knot' on November 10, 2021 at 06:37 pm MSK. To access the full text of the article, click here.
Author: Inna Kukudzhanova Source: CK correspondent