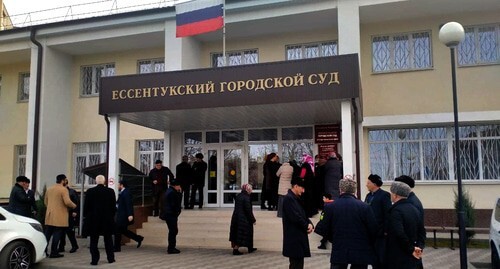 16 December 2021, 16:16
Advocates and relatives of Ingush activists shocked by court verdict
There were no doubts that the sentence on the Ingush activists' case would be politically motivated, but everyone hoped for a softer punishment than the prosecution demanded, the advocates have stated. The convicts' relatives have lost faith in a fair trial.
The "Caucasian Knot" has reported that since November 2020, the court has considered the case initiated against the leaders of protests in Ingushetia, who, in connection with the Magas rally that took place in March 2019, were accused of creating an extremist community. The court sentenced Akhmed Barakhoev, Musa Malsagov, Malsag Uzhakhov, Ismail Nalgiev, Bagaudin Khautiev, Barakh Chemurziev and Zarifa Sautieva to prison terms ranging from 7.5 to 9 years.
The verdict to the seven civil society leaders in Ingushetia will cross out any hopes for the possibility of legal oppositional activities in the country, human rights defenders have stated.
"These are the best people of our nation; and they received higher sentences than killers," Zulfiya Barkinkhoeva, an Ingush native, was indignant.
Ruslan Mutsolgov, a defendants' public defender, has treated the verdict as "the practice of suppressing any expression of will in Northern Caucasus." In his opinion, "this is a signal to the whole country that any civil activities that run counter to the policy of the country's leadership will be suppressed in the harshest way."
"This verdict has put an end to any independent public work and the work of any independent media ... This verdict will inevitably affect everyone and, of course, the 'Memorial'," Oleg Orlov, a board member of the "Memorial", has stated.
This article was originally published on the Russian page of 24/7 Internet agency 'Caucasian Knot' on December 15, 2021 at 09:37 pm MSK. To access the full text of the article, click here.
Author: Alyona Sadovskaya Source: CK correspondent