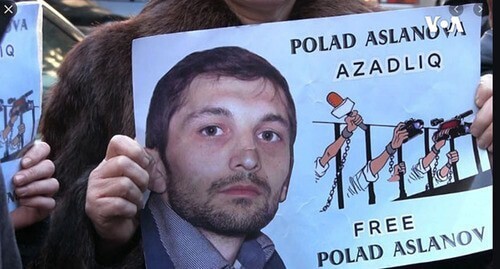 22 December 2021, 23:01
Journalist Polad Aslanov complains about absence of quality medical care
Polad Aslanov, an Azerbaijani journalist in prison, complained about the absence of proper conditions for providing him with quality medical care.
The "Caucasian Knot" has reported that on November 16, 2020, the court sentenced Polad Aslanov, the editor-in-chief of the Azerbaijani online editions "Xeberman.com" and "Press-az.com", to 16 years of imprisonment in a case on high treason.
Polad Aslanov got a nervous breakdown and sleep disorder, said Gyulmira Aslanova, a spouse of the journalist.
"This morning, Polad called from the penal colony. He recently complained about nervous tension and sleep disorder. Doctor said that Polad should either be placed in the colony's first-aid post, or sent to the Medical Institution of the Penitentiary Service. However, the administration of the penal colony refuses to transfer him to the first-aid post or prison hospital and says that he 'should get treatment in barracks.' But the doctor said that the treatment in the penal colony would not be effective," Gyulmira Aslanova told the "Caucasian Knot" correspondent.
This article was originally published on the Russian page of 24/7 Internet agency 'Caucasian Knot' on December 22, 2021 at 07:01 pm MSK. To access the full text of the article, click here.
Author: Faik Medjid Source: CK correspondent