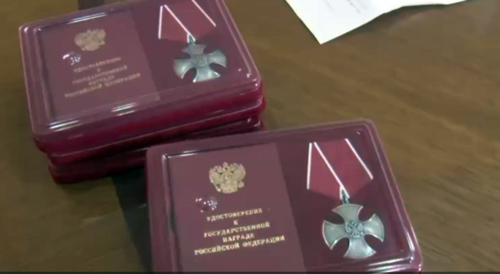 08 May 2022, 05:40
Authorities acknowledge deaths of hundred natives of Dagestan in Ukraine
Residents of the Buynaksk District, Timur Aliev, Biyarslan Abukaev, Alimurza Alimurzaev, Abdullabek Aliev and Gusein Iraskhanov, have perished in Ukraine, the head of the district has informed and handed over the awards to their families. Since the start of the special operation in Ukraine, authorities have confirmed the deaths of at least 100 natives of Dagestan there.
Kamil Iziev, the head of the Buynaksk District, has presented the relatives of the natives of the district who perished in Ukraine with Orders of Courage. The awards were handed over to the relatives of Timur Aliev from the village of Kafyr Kumukh; Biyarslan Abukaev and Alimurza Alimurzaev from the village of Nizhneye Kazanische; Abdullabek Aliev from the village of Erpeli; and Gusein Iraskhanov from the village of Khalimbekaul, the administration of the Buynaksk District has reported on its Telegram channel.
"Losing a father or a husband is always painful. It's impossible to find words that would soften the pain of your losses. But you must live on and raise their children," Mr Iziev has stated.
This article was originally published on the Russian page of 24/7 Internet agency 'Caucasian Knot' on May 7, 2022 at 07:41 pm MSK. To access the full text of the article, click here.
Source: Caucasian Knot