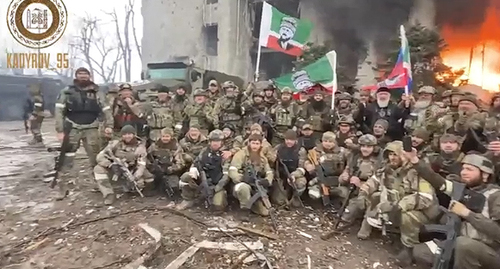 15 September 2022, 23:55
Kadyrov calls on Russian regions to self-mobilize to send fighters to Ukraine
Russian governors should declare self-mobilization in their regions to form detachments and send them to Ukraine, the leader of Chechnya says.
The "Caucasian Knot" has reported that on September 6, Ramzan Kadyrov announced that "several thousand determined volunteers and elite fighters" were being prepared for dispatch to Ukraine. On September 7, the leader of Chechnya announced that fighters from the "Sever" (North) regiment named after Ramzan Kadyrov and the "Yug" (South) battalion had left for Ukraine from Grozny.
"I believe that each head of the region is able to train at least a thousand volunteers. This is not such a large number of fighters for a single federal subject ... However, on a national scale, this will be an impressive contingent of 85,000 people, almost an army!" Ramzan Kadyrov wrote in his Telegram channel.
Let us remind you that in May, Ramzan Kadyrov stated that there was no need to declare mobilization in Russia, but citizens of the country should mobilize themselves because of the situation in Ukraine.
It should be noted that Ramzan Kadyrov regularly reports on sending to Ukraine the volunteers trained in Gudermes, including fighters from other regions of Russia. At the same time, Chechnya does not stand out from other regions in terms of the number of fighters sent to Ukraine, military expert Alexander Khramchikhin points out.
On the contrary, experts Vasily Dandykin and Gennady Gudkov note that most of the fighters are being sent from Chechnya. According to the experts, "residents of the poorest regions of the country are being enrolled en masse."
This article was originally published on the Russian page of 24/7 Internet agency 'Caucasian Knot' on September 15, 2022 at 01:47 pm MSK. To access the full text of the article, click here.
Source: Caucasian Knot