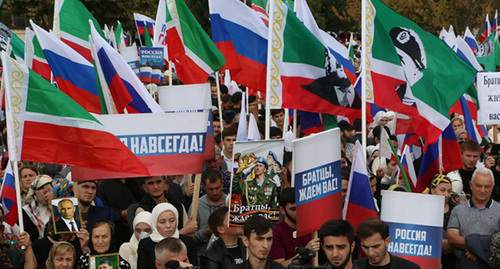 24 September 2022, 16:47
Chechen officials report about rally of 50,000 in support of referendums
Today, a rally in support of referendums on joining Russia in Donetsk, Lugansk, Zaporozhye, and Kherson Regions has been held in Grozny.
Students, employees of enterprises, representatives of civil society, political parties, the elderly, and even children took part in the action of support, the "Grozny-Inform" news agency reports.
The "Caucasian Knot" has reported that on September 21, Ramzan Kadyrov confirmed that "15-20 women came out to protest against the mobilization" in Grozny. Koka Azieva, who was calling on women to come out to the rally, fell victim to provocations, as all residents of Chechnya, who had left to fight to Ukraine, had left voluntarily, said Chechen Press Minister Akhmed Dudaev. The Chechen authorities' threats to mothers indicated a fear of protests, human rights defenders say.
Public sector employees in Chechnya repeatedly complained about being forced to participate in various events. In July 2020, it became known that the administrations of public institutions, under threat of dismissal, is forcing employees to participate in a pro-government flash mob.
Besides, on March 25, Ramzan Kadyrov reported about mass prayers in support of the participants in the special military operation. Participants in prayers are being forced to participate in them, suggests an author of the blog "Chechnya Inside" on the "Caucasian Knot".