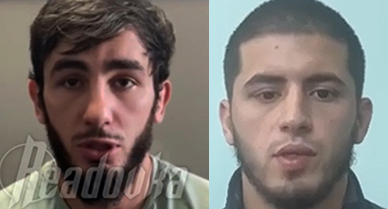 30 September 2022, 23:57
Public apologies of opponents of mobilization in Dagestan posted on Internet
Videos in which three young natives of Dagestan apologized for participating in Telegram channels opposing mobilization have been posted on the Internet amid a large gathering of law enforcers in the centre of Makhachkala.
The "Caucasian Knot" has reported that according to the police, administrators of Telegram channels that posted calls for actions of protest against the mobilization were detained in Dagestan.
Today, the number of policemen has increased in Makhachkala after the calls were disseminated in anonymous Telegram channels to take part in actions of protests against mobilization.
"I participated in the 'Basement of Dagestan' group in Telegram and disseminated files in Telegram public accounts about gathering of rallies to protest against mobilization. I learned that the Telegram group was administered from abroad, and I wanted to warn my relatives not to succumb to provocations," one of the young people said on the video.
The second young man noted that he "was a member of the 'Mountaineer', 'Attic of Dagestan', 'Basement of Dagestan', and 'Morning of Dagestan' groups in Telegram, where calls for a rally against the mobilization were posted.
Authors of the "Mountaineer" Telegram channel called the apologies of the young people the result of "the activities of the Russian special services." "Just like they earlier were planting weapons and drugs to those not guilty, so today, they are imputing the administration of channels in which the victims of their repressions are not involved," the authors of the "Mountaineer" Telegram channel noted in their message.
Let us remind you that the authorities of Dagestan refused to recognize the protests against the mobilization in the republic as an initiative of local residents. On September 26, Sergey Melikov declared that the protest actions in Makhachkala were prepared "including from abroad."
This article was originally published on the Russian page of 24/7 Internet agency 'Caucasian Knot' on September 30, 2022 at 04:10 pm MSK. To access the full text of the article, click here.
Source: Caucasian Knot