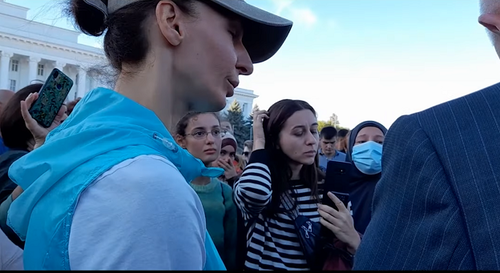 04 October 2022, 14:40
After anti-mobilization actions in Nalchik, law enforcers draw up 20 protocols
In Nalchik, protesters against the partial mobilization were charged under the articles of discrediting the army, violating the procedure for holding public events and disobeying the police. The activists' have arrived in the court; some figurants have been fined.
The "Caucasian Knot" has reported that on September 25, at an action in Nalchik, women of the Kabardino-Balkarian Republic (KBR) demanded not to mobilize their relatives and insisted on a meeting with the KBR head. It is impossible to send men without professional skills in military affairs to the special operation zone, opponents of the mobilization have stated. The next day, officials went out to the protesters in Nalchik, but instead of answering their questions about mobilization, they accused the protesters of self-promotion.
The Nalchik court received 20 protocols against anti-mobilization protesters, the human rights project "OVD-Info"* has informed. Seven protocols are under the article on violation of the procedure for organizing or holding an action. Two of the seven protocols are against Zalina Pekova; four out of the six defendants are women. So far, decisions have been made on two cases, human rights defenders have reported.
The court has found Salima Khushtova, a resident of Nalchik, guilty of discrediting the Russian Armed Forces and imposed a fine on her, the "Kavkaz.Realii"** project has informed.
According to the police, while in the square, Salima "showed a clear disregard for the current policy by expressing her erroneous judgments." At the trial, she explained that she took part in the rally spontaneously, seeing people in the square on her way home. She also said that she repented of her act, reported on the difficult financial situation and health problems.
This article was originally published on the Russian page of 24/7 Internet agency 'Caucasian Knot' on October 4, 2022 at 03:13 am MSK. To access the full text of the article, click here.
Source: Caucasian Knot