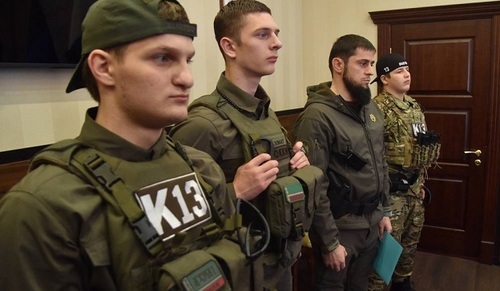 18 October 2022, 20:05
Kadyrov reports his kids' trip to Donbass
Three Ramzan Kadyrov's sons have starred in the propaganda video story by the "Grozny" TV Channel from Mariupol, and posed for the photos taken by the press service of the head of the Donetsk People's Republic (DPR), who presented their sister Aishat Kadyrova with an order.
The "Caucasian Knot" has reported that on October 3, the head of Chechnya announced that his three underage sons were preparing to be sent to Ukraine, where they would stay in most difficult sections of the combat line. This statement caused bewilderment among social network users. Some of them treated the Kadyrov's words as a self-promotion element; others expressed the opinion that it was too early for children to go to the war zone.
The head of Chechnya has himself announced in his Telegram channel that his minor sons, Akhmat, Eli and Adam, had visited Mariupol.
According to Ramzan Kadyrov, his daughter, Aishat Kadyrova, also arrived in the DPR; she headed the working trip of the Chechen delegation to Donbass.
Khas-Magomed Kadyrov, the Mayor of Grozny, said in his interview with the "Grozny" TV Channel that he was confident that the mission of the special operation of the Russian troops would be completed successfully.
Denis Pushilin, the head of the DPR, has also announced in his Telegram channel that he had awarded Aishat Kadyrova with the Order of Friendship for cooperation and as a token of gratitude for supporting Donbass.
The user donn.kiehn has suggested in his comment to the material on the "Caucasian Knot" that in future, such trips would allow Kadyrov's relatives "to acquire the status of war veterans and at the same time receive some kind of awards."
"Recently, Khamzat, a nephew of the head of Chechnya, went on the same 'mission' to Mariupol, checked combat posts of Kadyrov's fighters, and also, as it were, visited the forefront. The situation is similar here. Visiting the safe zone, filming a couple of videos and then be proud and admire one's 'exploits' for a long time," the user donn.kiehn has concluded.
This article was originally published on the Russian page of 24/7 Internet agency 'Caucasian Knot' on October 18, 2022 at 12:21 pm MSK. To access the full text of the article, click here.
Source: Caucasian Knot