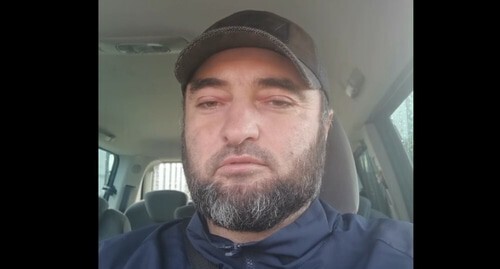 25 March 2023, 16:49
Former critic of Kadyrov visits congress in Grozny
Said-Khusein Magomadov, a blogger was spotted at the congress of the Chechen nation; he posted his photos with Chechen officials in a social network. After the assassination attempt on him, of which he blamed Chechen authorities, the blogger redirected his criticism from Ramzan Kadyrov to Akhmed Zakaev.
The "Caucasian Knot" has reported that in June 2021, according to the Austrian police, there was an attempt to blow up Said-Khusein Magomadov. Two natives of Chechnya were detained in connection with the assassination attempt. Magomadov then treated the failed assassination attempt as Chechen authorities' order. In 2020, at a family gathering, Magomadov's relatives condemned him for criticizing Kadyrov.
Magomadov said earlier that the murder of Mamikhan (Anzor) Umarov was an impetus for him to run the blog. Mamikhan Umarov, a native of Chechnya, was shot dead in a suburb of Vienna on July 4, 2020. In his videos, the blogger openly insulted Kadyrov and his parents.
Said-Khusein Magomadov, a Chechen blogger, who lives in Austria, became one of the delegates to the congress of the Chechen nation organized by the authorities, the "Kavkaz.Realii"* project has reported.
Since March 15 this year, in his Instagram** page, Magomadov began posting joint photos with Chechen officials – Akhmed Dudaev, the head of the Chechen Ministry of Press, Isa Ibragimov, the Minister of Sports, and Mansur Soltaev, the Chechen Ombudsperson, explaining that the meetings with them were held as part of his "visit to Chechnya."
Magomadov is also posting videos supporting Chechen authorities and the special military operation (SMO) in Ukraine, as well as entertainment videos.
Akhmed Zakaev is the special representative of Aslan Maskhadov in the West (2001), and the Prime Minister of the self-proclaimed Chechen Republic of Ichkeria (2007-2009). He was put on the international wanted list on charges of terrorism; he received political asylum in the United Kingdom.
This article was originally published on the Russian page of 24/7 Internet agency 'Caucasian Knot' on March 24, 2023 at 11:12 pm MSK. To access the full text of the article, click here.
Source: Caucasian Knot