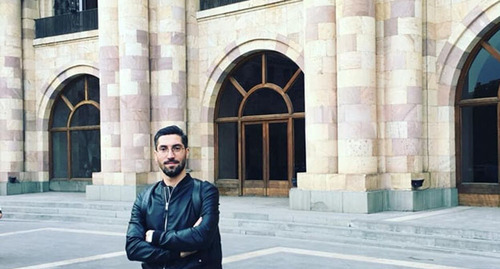 30 August 2023, 20:47
The court in Cherkessk closes activist Kase Kik's case
The Cherkessk City Court has stopped the proceedings against Kase Kik, an activist, accused of discrediting the Russian Army, since the statute of limitations for bringing him to administrative responsibility has expired.
The "Caucasian Knot" has reported that the police had drawn up a protocol on discrediting Russian militaries against the Circassian activist, Kase Kik, but on June 9, 2023, the court returned the case materials to the interior department due to the revealed procedural violations.
The Cherkessk City Court has closed the administrative case on discrediting the Russian Army against Kase Kik, who is also the leader of the "Circassian Congress". His publication that became the reason for opening the case was made in September 2022, and the case went to court on July 7, 2023. The court has terminated the proceedings due to the expiration of the three-month period for bringing to responsibility under this article, the "Kavkaz.Realii"* project has reported.
Let us remind you that law enforcers detained Kase Kik in Cherkessk in June 2022. He claimed that he had been tortured, and a protocol on petty hooliganism had been drawn up against him. The court appointed him seven days of arrest, finding him guilty. In June of the same year, he left Russia.
*Included by the Russian Ministry of Justice (MoJ) into the register of foreign agents.
This article was originally published on the Russian page of 24/7 Internet agency 'Caucasian Knot' on August 30, 2023 at 01:00 pm MSK. To access the full text of the article, click here.
Source: Caucasian Knot