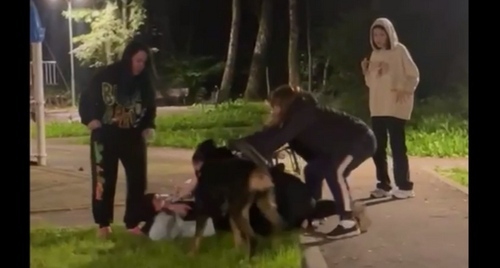 05 September 2023, 20:09
North-Caucasian woman complains about being attacked in New Moscow because of wearing hijab
The police received a complaint about an attack on a native of Northern Caucasus, who was walking with her children on a playground. The woman was seriously injured and reported insults on religious and national grounds.
According to the victim's story, attackers spoke insultingly about her because of her hijab, the "Kavkaz.Realii"* reports with reference to lawyer Ruslan Nagiev. According to his report, the woman was walking with her three children and two nieces when she was attacked by dogs and dog owners.
Ruslan Nagiev adds that "the physical and emotional state of the entire family is difficult." "The woman has a knee rupture. She is able to walk with the help of crutches only. Shortly before the incident, she got a job, but now she won't be able to work ... She will have a serious knee surgery and a long rehabilitation period. A boy received medical assistance after being bitten by a dog. He and his sisters got psychological trauma. Thanks to local people, who came to the defence of the family during the conflict, more serious consequences were avoided," reported the lawyer.
"In New Moscow, women fought on a playground because of a dog without a muzzle ... According to eyewitnesses' report, the conflict began after the dog attacked a child, and the mother tried to protect him," reports the annotation to the video posted on the "Ostorozhno, Moskva" (Caution, Moscow) Telegram channel.
*Included by the Russian Ministry of Justice (MoJ) into the register of foreign agents.
This article was originally published on the Russian page of 24/7 Internet agency 'Caucasian Knot' on September 3, 2023 at 07:17 pm MSK. To access the full text of the article, click here.
Source: Caucasian Knot