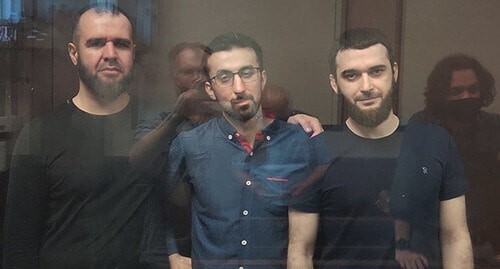 13 September 2023, 21:08
Defenders promise to challenge verdicts in journalist Gadjiev's case
The decision of the court, which sentenced Abdulmumin Gadjiev, Kemal Tambiev, and Abubakar Rizvanov to long terms of imprisonment, will be challenged, report advocates of the convicts. Friends of Abdulmumin Gadjiev have noted that the severe sentence was pronounced against the backdrop of the lack of real evidence of guilt.
The "Caucasian Knot" has reported that on June 22, a public prosecutor requested the court to sentence Abdulmumin Gadjiev, Abubakar Rizvanov, and Kemal Tambiev to 19 years of imprisonment. According to the defendants, the public prosecution failed to present any convincing evidence. The court sentenced Abdulmumin Gadjiev to 17 years, Abubakar Rizvanov – to 18 years, Kemal Tambiev – to 17 years and 6 months of imprisonment.
Abdulmumin Gadjiev, an editor of the Dagestani weekly newspaper "Chernovik" (Rough Draft), Abubakar Rizvanov, the head of the "Ansar" charitable foundation, and Kemal Tambiev were accused of financing terrorism.
The guilty verdict and long sentence are not unexpected and reflect judicial practice in such cases, explains a defender of Abubakar Rizvanov. The advocate has announced that the defence plans to file an appeal against the verdict.
Ziyautdin Uvaisov, a human rights defender and Abdulmumin Gadjiev's friend, the head of the "Patient Monitor" project, called the verdict unexpected and cruel. Ziyautdin Uvaisov believes that in the nearest future, the decision will be reconsidered and that Abdulmumin Gadjiev, Abubakar Rizvanov, and Kemal Tambiev will be acquitted.
Idris Yusupov, a journalist of the "Novoye Delo" (New Clause) and a friend of Abdulmumin Gadjiev, believes that the court's decision in the case undermines citizens' trust in the law enforcement and judicial system. According to Idris Yusupov, the court's decision can provoke "increasing social tension and undermining of trust in public institutions."
This article was originally published on the Russian page of 24/7 Internet agency 'Caucasian Knot' on September 12, 2023 at 05:10 pm MSK. To access the full text of the article, click here.
Source: СK correspondent