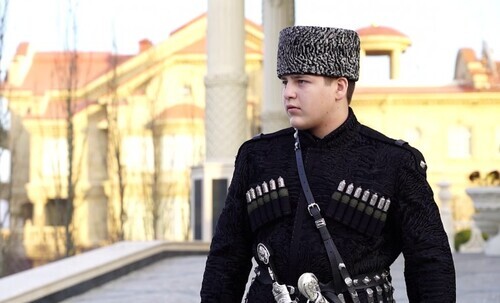 01 October 2023, 17:55
Over 30,000 people demanded to bring Adam Kadyrov to justice
Social network users have put more than 30,000 signatures to the petition demanding that the son of the head of Chechnya, Ramzan Kadyrov, be brought to justice for beating Nikita Zhuravel, who was arrested under the case of burning the Koran. Activists at the solo pickets held in different cities of Russia have also supported this demand.
The "Caucasian Knot" has reported that Ramzan Kadyrov had posted a video of his son beating Nikita Zhuravel, and praised Adam for his actions. The officials close to the Chechen leader have also approved them; however, a number of human rights defenders, including the Russian Ombudsperson, have spoken negatively about Adam's actions.
Beating up a defenceless person is contrary to Chechen traditions, Akhmet Yarlykapov, an Orientalist, and Ruslan Kutaev, a Caucasus expert, have pointed out.
By 8 p.m. on September 29, the petition demanding to bring Adam Kadyrov to justice posted on the "Change.Org" website had gathered 30,805 signatures.
"Beating a person, moreover a helpless one, who cannot fight back, is not only immoral, but also criminal, according to the laws of the Russian Federation," Oksana Boyarintseva, the author of the petition, has explained.
On Friday (September 29), Anna Sliva, an activist, was detained in Moscow; she was standing with a poster demanding that the head of Chechnya and the President of Russia be brought to justice, the human rights project "OVD-Info"* has reported.
On September 28, a picketer named Ilya was also detained in Moscow; he came out with a poster "Not only Zhuravel Nikita, but also Adam and Ramzan Kadyrov must be held accountable for their evil," the Telegram channel "Caution, News" has reported.
The police also detained Alexander Sidelev in Saint Petersburg; he who went out to the picket with a poster in support of Nikita Zhuravel, a Volgograd resident.
*Included by the Russian Ministry of Justice (MoJ) into the register of foreign agents.
This article was originally published on the Russian page of 24/7 Internet agency 'Caucasian Knot' on September 29, 2023 at 08:21 pm MSK. To access the full text of the article, click here.
Source: Caucasian Knot