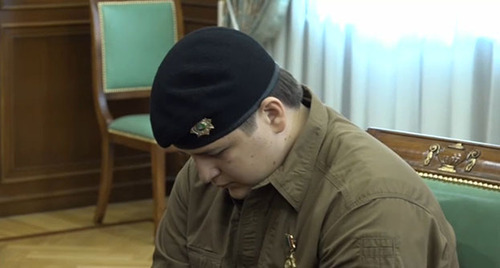 09 November 2023, 17:08
Adam Kadyrov's post as test for inheriting power in Chechnya
The appointment of Kadyrov's son as head of the security division of the head of Chechnya is poorly in line with the labour legislation for teenagers and only emphasizes the hereditary principle of power formation in Chechnya, lawyers, law enforcers and human rights defenders have pointed out, suggesting that for Adam Kadyrov this is a test of his ability to head Chechnya after his father.
The "Caucasian Knot" has reported that Adam Kadyrov, one of Ramzan's sons, was appointed to head his father's security division.
Ruslan Kutaev, the President of the Assembly of Caucasian Nations, believes that the post of the head of Ramzan Kadyrov's security division was specially created within the structure of Chechen Government for Adam Kadyrov. Ruslan Kutaev has suggested that Ramzan Kadyrov's sons are being tested for suitability to replace their father as the head of Chechnya.
Svetlana Gannushkina*, the Chair of the "Civic Assistance" Committee*, also believes that Kadyrov perceives himself as a hereditary ruler.
Ms Gannushkina* has emphasized that Russian laws allow teenagers to work only in light works; and this cannot include working as the head of the security division of the head of Chechnya. "This post should be occupied by someone with education and experience, but no by the one who is still studying himself. This is a completely ridiculous and illegal appointment; just willfulness," she has stated, believing that the point is not in Adam Kadyrov's any official duties. "He is a schoolboy and won't be able to do what is required for this post," Svetlana Gannushkina* is sure.
According to Amir Kolov, a retired Colonel of the Ministry of Internal Affairs (MIA), in Russia, Kadyrov is perceived as the only successful leader among North-Caucasian republics; and he is sure that everything is permissible for him.
*Included by the Russian Ministry of Justice (MoJ) into the register of foreign agents.
This article was originally published on the Russian page of 24/7 Internet agency 'Caucasian Knot' on November 8, 2023 at 09:00 pm MSK. To access the full text of the article, click here.
Author: Naim Suleimanov Source: СK correspondent