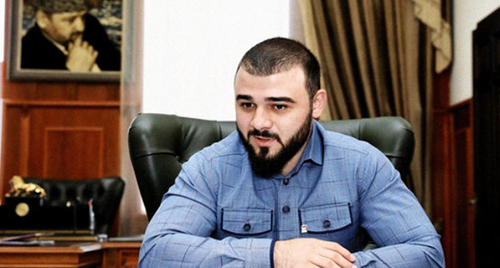 10 November 2023, 21:08
Kadyrov's nephew awarded the title of "Hero of Chechnya"
Ramzan Kadyrov has awarded Khamzat Kadyrov, his nephew and advisor-assistant, the title of "Hero of Chechnya".
The "Caucasian Knot" has reported that on February 2, 2023, the head of Chechnya announced the appointment of Khamzat Kadyrov as Deputy Prime Minister and Minister of Property and Land Relations of Chechnya. On April 25, 2023, Khamzat Kadyrov was appointed advisor-assistant to Ramzan Kadyrov for the security bloc. On July 10, it became known that the President of Russia awarded Khamzat, Kadyrov's nephew, with Second Degree Order of Merit for the Fatherland.
According to Akhmed Dudaev, the head of the Ministry of Press of Chechnya, Khamzat Kadyrov "has extensive experience in various areas; and in each of them he has shown himself to be a fair manager and a high-class specialist."
In 2012, Khamzat Kadyrov graduated from Khafiz School (Khafizes are guardians of the Koran – note of the "Caucasian Knot"), after which he was appointed director of such school, named after Zelimkhan Kadyrov (elder Ramzan Kadyrov's brother) and located in the village of Akhmat-Yurt, the Kadyrovs' family village.
This article was originally published on the Russian page of 24/7 Internet agency 'Caucasian Knot' on November 9, 2023 at 07:10 pm MSK. To access the full text of the article, click here.
Source: Caucasian Knot