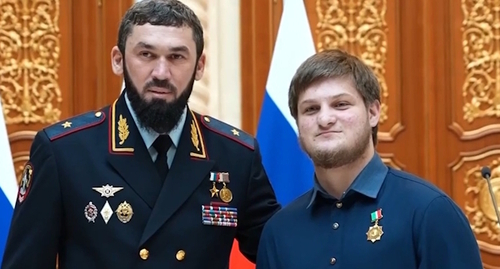 16 November 2023, 21:49
Analysts claim contradiction to law in appointing Kadyrov's son as deputy minister
A position at the level of deputy minister in the regional government cannot be held by a person without completed higher education; this restriction is established by the republic's law of Chechnya, lawyers have stated in their comments on the appointment of Akhmat Kadyrov.
The "Caucasian Knot" has reported that the 18-year-old son of the head of Chechnya, Akhmat Kadyrov, was appointed deputy minister for physical culture, sports and youth policy of Chechnya.
The deputy minister in the republican government is an important position, regardless of what the ministry does, Ruslan Kutaev, the President of the Assembly of Caucasian Nations, believes. According to his version, the position for Akhmat Kadyrov has a symbolic value and provides the status necessary for further promotion.
Akhmat Kadyrov meets the formal age requirement for appointment to the post of deputy minister; an official cannot be less than 18 years old, but having a higher education is a mandatory requirement, Abusupyan Gaitaev, an advocate, has noted.
Timofei Shirokov, another advocate, has confirmed that a person without a completed higher education cannot hold the position of deputy minister.
Dmitry Oreshkin, a political analyst, believes it unthinkable to combine such a responsible position as deputy minister with obtaining one's first higher education.
By promoting his sons up the career ladder, Ramzan Kadyrov fundamentally ignores the law, says Professor Elena Lukianova, a legal expert.
Andrei Serenko, a political analyst, treats a government post for Akhmat Kadyrov as a clear demonstration of the strengthening of Kadyrov's clan and its intention to rule Chechnya for generations.
This article was originally published on the Russian page of 24/7 Internet agency 'Caucasian Knot' on November 16, 2023 at 03:39 am MSK. To access the full text of the article, click here.
Source: СK correspondent