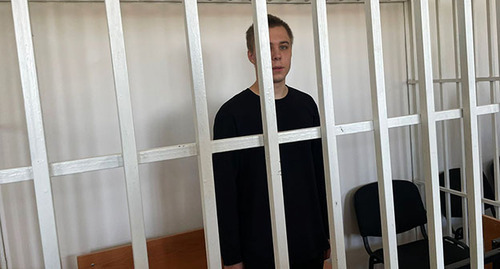 19 November 2023, 21:14
Rights defenders explain Chechen Imams' failure to appear at trial of Zhuravel's case
Chechen Imams have become the suffered party in Nikita Zhuravel's case against their will, and ignore court sessions, because they received no instructions on their testimonies, Svetlana Gannushkina* believes.
The "Caucasian Knot" has reported that Nikita Zhuravel, 19, was detained in Volgograd this May. According to investigators, he had set fire to the Koran "on instructions from the SBU (Security Service of Ukraine)" and filmed it for the promised reward. Zhuravel is accused of insulting believers' feelings and hooliganism due to religious hatred. The court in Grozny has begun considering his case, but the Imams of Grozny mosques, who figure in the case as the suffered party, are ignoring the hearings. For this reason, a number of sessions were postponed, including that one scheduled for November 16.
The prosecution of Zhuravel is politically motivated and aimed at intimidating the public, the human rights project "Support for Political Prisoners. Memorial" has stated.
Imams recognized as the suffered party were awarded this status "not of their own free will," Svetlana Gannushkina*, the head of the "Civic Assistance" Committee*, believes. They fail to appear in court, perhaps, because they are confused and do not know how to explain their status as the suffered party, and "apparently, they've received no instructions yet," Svetlana has noted.
She is sure that Imams cannot be treated as the suffered party. "Zhuravel personally took no actions against them. The burning down of the Koran outrages not only Muslims ... In general, burning down books is a medieval practice. And this savagery cannot serve as a way of expressing one's opinion," Ms Gannushkina* has concluded.
The "Caucasian Knot" has reported that cases of Koran desecration have been recorded more than once in Russian penal colonies. Thus, in 2016, an inmate at a Yaroslavl penal colony complained that special fighters threw his Koran onto the floor during a search of his cell.
According to Oyub Titiev, a human rights defender, the fact that the suffered Imams fail to appear at hearings has little value for the case plot, but this delays the trial process.
* Included by the Russian Ministry of Justice (MoJ) into the register of foreign agents.
This article was originally published on the Russian page of 24/7 Internet agency 'Caucasian Knot' on November 18, 2023 at 00:49 am MSK. To access the full text of the article, click here.
Source: СK correspondent