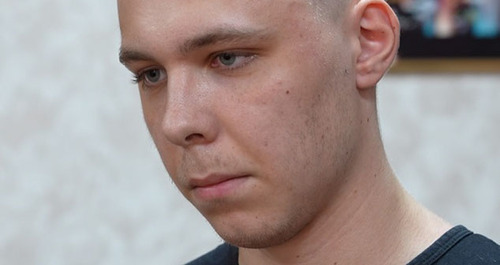 17 November 2023, 19:18
Human rights defenders recognize Nikita Zhuravel as a political prisoner
The persecution of Nikita Zhuravel is politically motivated and aimed at intimidating the public, states the human rights project "Support for Political Prisoners. Memorial." The human rights defenders requested the authorities to immediately release the resident of Volgograd and launch an investigation into his beating by a son of Ramzan Kadyrov.
The "Caucasian Knot" has reported that 19-year-old Nikita Zhuravel was detained in Volgograd in May. According to the investigators' version, "in accordance with the instructions got from the Ukrainian Security Service (known as SBU)," the young man set fire to the Koran and filmed that for a promised reward. Nikita Zhuravel is accused of insulting the feelings of believers and hooliganism based on religious hatred. On May 27, the young man was taken to a SIZO (pre-trial prison) in Grozny.
The activists of the human rights project "Support for Political Prisoners. Memorial" note the assertion that it was Nikita Zhuravel who burned the Koran is questionable.
The human rights defenders emphasize that the classification of the incident under the article on public insult to the religious feelings of believers in places of worship is incorrect, since the burning of the Koran did not take place in a mosque.
The human rights defenders have also pointed out the illegality of Nikita Zhuravel's transfer to a Muslim region. His beating and public approval of the beating by top-ranking officials undoubtedly indicate a political motive for the persecution, point out the human rights defenders.
This article was originally published on the Russian page of 24/7 Internet agency 'Caucasian Knot' on November 16, 2023 at 05:36 pm MSK. To access the full text of the article, click here.
Source: Caucasian Knot