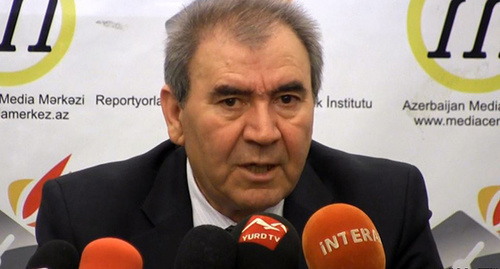 23 February 2015, 02:41
Jamil Hasanli's daughter sentenced to 1.5 years in prison in Baku
In Azerbaijan, Gyunel Hasanli, the daughter of Jamil Hasanli, the leader of the oppositional National Council of Democratic Forces (NCDF), has been sentenced to 1.5 years in prison on charges of committing a traffic accident.
The verdict to Gyunel Hasanli was read out on February 20 at the Yasamal District Court of Baku. Her advocate Fakhraddin Mekhtiev intends to file a complaint.
The criminal case against his daughter was fabricated, Jamil Hasanli told the "Caucasian Knot" correspondent. He believes that it was caused by his oppositional activities and harsh criticism of the authorities, when he ran for the presidency in 2013.
"Adel Salimova, who had been recognized as a victim in this, case at the trial that she had no claims to my daughter," said Hasanli.
Oktay Gyulalyev, a member of the coordinating centre of the NCDF and the head of the Public Alliance "Azerbaijan without Political Prisoners", has noted that "in Azerbaijan, women are very rarely prosecuted and, moreover, deprived of their liberty for a road accident."
"It is used only against oppositionists. Thus, two years ago, Nigyar Yagublu, the daughter of Tofig Yagublu, the deputy chairman of the 'Musavat' Party, was sentenced to imprisonment on charges of a road accident," Gyulalyev has reminded.
Full text of the article is available on the Russian page of 24/7 Internet agency 'Caucasian Knot'.
Author: Faik Medzhid Source: CK correspondent