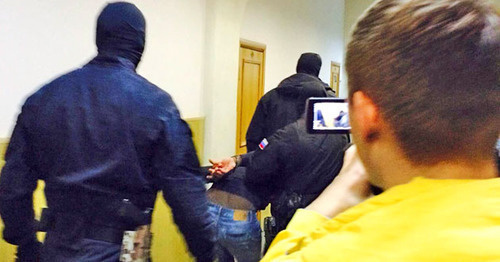 11 March 2015, 15:52
"Novaya Gazeta": organizer of Nemtsov's murder established
The newspaper writes that investigators believe that the murder of Boris Nemtsov was organized by a close relative of a high-ranking Chechen power agent.
According to the "Novaya Gazeta" the name of the organizer –Ruslan in the rank of the Major – was reported to Vladimir Putin in the middle of last week.
The "Caucasian Knot" has reported that according to official data, five persons were detained in connection with the murder of Boris Nemtsov: Zaur Dadaev, Anzor Gubashev, Khamzat Bakhaev, Tamerlan Eskerkhanov and Shagid Gubashev. Law enforcement sources reported about the detention of two more suspects in the Shelkovskoy District of Chechnya; however, the Chechen MIA later refuted this information.
The alleged organizer of the murder had taken his service in the battalion "Sever" (North) of the Internal Troops of the Russian MIA, together with the detained Dadaev, and "was repeatedly awarded"; recently, he moved to Moscow, "where his two uncles work."
According to the newspaper, Putin was reported that Nemtsov was on some "execution list", which allegedly also includes Alexei Venediktov, the editor-in-chief of the Radio "Echo Moskvy", the former Yukos head Mikhail Khodorkovsky and, "probably, Ksenia Sobchak."
The name of the possible organizer is already voiced out by the opposition.
"Meanwhile, Alexei Navalny has named the organizer in his Twitter: Ruslan Geremeev. His uncle Suleiman Geremeev is a Senator from the Chechen Republic at the Federation Council, while Adam Delimkhanov, an MP of the State Duma is also Ruslan's close relative," says the edition named "Slon".
Full text of the article is available on the Russian page of 24/7 Internet agency 'Caucasian Knot'.