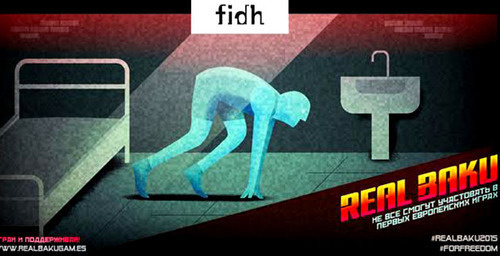 11 June 2015, 17:30
Rights defenders invite people for online participation in European Games
The International Federation for Human Rights (FIDH) has released an online game depicting prisoners taking part in prison competitions. The game has been timed to the opening of the European Games in Azerbaijan.
The "Caucasian Knot" has reported that on June 12, the first European Games will be launched in Baku. The preparations to the competitions are being carried out against the background of the rights defenders' appeals to boycott the European Games because of the situation with human rights in Azerbaijan.
On May 8, the working group to compile a single list of political prisoners reported on 80 political prisoners kept in prisons of Azerbaijan.
Characters of the game are political prisoners, who take part in the competitions on five "sports", including "sprint" in a prison cell, "boxing" with own shadow, "jumping" on mattress, "swimming" in a washstand, and shot-pushing of a paper "putting-stone". Users of social networks are invited to share the results of the competitions.
The FIDH has chosen such an unusual manner to draw public attention to the fate of dozens of activists imprisoned for defending the right to independent opinion.
Full text of the article is available on the Russian page of 24/7 Internet agency 'Caucasian Knot'.