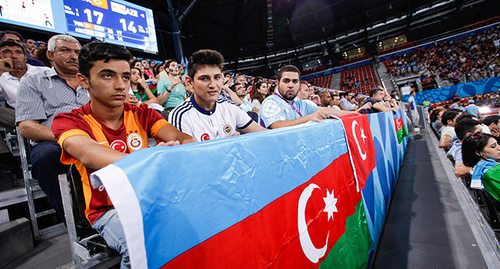 02 July 2015, 16:14
European Games step up criticism of Azerbaijan for human rights violations
Azerbaijani experts and local residents have different opinions on the value for the country of the recent First European Games held in Baku. Some believe that the Games boosted the country's international reputation and promotion of its tourism potential; while others point out huge expenses and increased criticism for human rights violations.
The "Caucasian Knot" has reported that the First European Games were held in Baku from June 12 to June 28. The host country took the second place in the medal standing; Azerbaijani athletes received about 7.7 million US dollars as premiums.
The decision to hold European Games in Baku was made at the peak of oil prices, while the criticism is in no casa diminishing the work done to organize the Games at the highest level, said Rasim Musabekov, a political scientist, an MP and a member of the Committee on Foreign Relations of the National Assembly.
The hopes of the Azerbaijani authorities to improve the country's international image by means of European Games failed, said Oktay Gyulalyev, the head of the Public Alliance "Azerbaijan without Political Prisoners". He noted that on the eve of and during the Games, all the world leading media focused on human rights issues.
The attitude of residents to Azerbaijan to European Games is different. Some expressed pride over the event and believe that the expenses for the Games will go for the benefit of the population. Others believe that the Games had a negative impact on their revenues and, in general, were a too expensive pleasure against the fall of oil prices and depreciation of the national currency.
Full text of the article is available on the Russian page of 24/7 Internet agency 'Caucasian Knot'.
Author: Faik Medzhid Source: CK correspondent