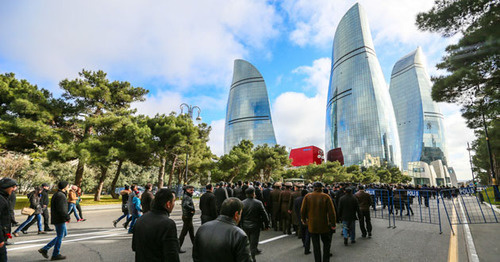 21 January 2016, 05:32
Residents of Azerbaijan pay tribute to memory of victims of "Black January" (+video)
In Azerbaijan, people have marked the Day of Memory and Mourning and paid tribute to the people who fell victim to the special operation carried out by the Soviet troops in Baku on January 20, 1990.
At night of January 20, 1990, by the order of the Soviet leaders, 35,000 soldiers of an army corps entered the city of Baku. As a result of the operation, 137 civilians were killed, and more than 744 people were injured. These events are marked in the history of Azerbaijan as the "Black January".
By tradition, in the morning of January 20, announced a day-off, in Baku, people started the mass march to the Alley of Martyrs. The marchers paid tribute to the victims of the "Black January". Thousands of city residents have visited the graves of the deceased people. In their hands, they were carrying red carnations, which became a symbol of the tragedy, the "Caucasian Knot" correspondent reports.
In other cities of Azerbaijan, people also held actions to pay tribute to the memory of the victims at memorials of the "Black January".
Witnesses of those tragic events believe that the troops were brought into Baku to suppress the national democratic movement. According to Iskender Gamidov, a former activist of the Popular Front, the current leader of the National Democratic Party of Azerbaijan, the bloodshed could have been avoided if the former Soviet leaders "had abandoned the plan to carry out a punitive operation at any cost."
Full text of the article is available on the Russian page of 24/7 Internet agency 'Caucasian Knot'.
Author: Faik Medzhid Source: CK correspondent