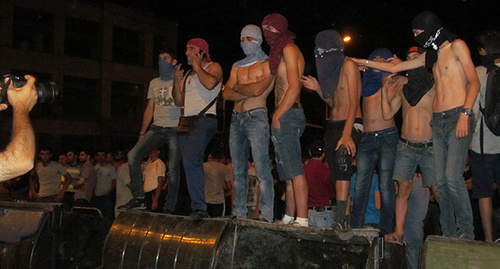 21 July 2016, 04:02
In Yerevan, number of victims of clashes exceeds 50 people
In Yerevan, 51 people injured as a result of clashes between activists and policemen, engaged in cordoning-off the territory of the seized building of the patrol-and-security regiment of the police.
The "Caucasian Knot" has reported that in the evening of July 20, supporters of the "Constituent Parliament" demanded from the policemen to permit them to deliver food for people inside the seized building. At about 10:00 p.m. local time, after the police refused to meet the conditions of the ultimatum, the protesters began throwing stones and smoke candles on the policemen. At about 10:20, the policemen stopped the activists' attempt to break through to the seized building.
At 2:50 a.m. of July 21, 51 people were hospitalized to medical centres of the Armenian capital. Of them, 28 were policemen.
"They received the necessary medical assistance. The lives of the victims are not in danger," reported Anait Aitayan, the press secretary of the Armenian Ministry of Health, as quoted by the "Interfax".
Full text of the article is available on the Russian page of 24/7 Internet agency 'Caucasian Knot'.