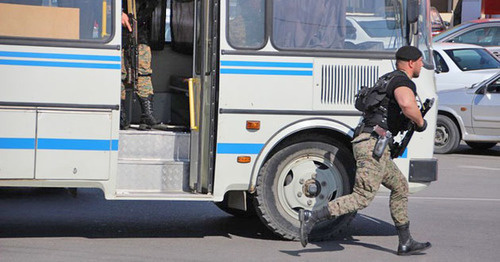 06 October 2016, 22:03
Dagestan: 12 people kidnapped during 16 days, HRC "Memorial" reports
Seven residents of Khasavyurt, four residents of Kaspiysk, and a native of Dagestan, who came from abroad to visit his relatives in Makhachkala, were kidnapped in the period from September 19 to October 4. These are the results of the calculations run by the Human Rights Centre (HRC) "Memorial".
The "Caucasian Knot" has reported that on September 19, relatives of Aslan Abdurakhmanov and Said Saidov, two residents of Kaspiysk, complained about their kidnapping by law enforcers. On September 20, according to the HRC "Memorial", Ramaldan Ramaldanov, a resident of Kaspiysk, was kidnapped. On October 4, the human rights defenders received a complaint about kidnapping on September 28 of Khasavyurt residents Gashim Uzdanov, Pakhrudin Makhaev, Islam Magomedov, and Shamil Djamalutdinov, a resident of Kaspiysk.
On September 25, a native of Dagestan, permanently residing abroad, was kidnapped in Makhachkala. He informed his family members by phone that he was being kept at a police station in one of the neighbouring North-Caucasian republics.
On October 5, Arsen Magomedov filed a complaint about kidnapping of four residents of Khasavyurt: Kamil and Shamil Djamaludinov, Klych Klychev, and Gosein Goseinov.
On October 4, Kamil Djamaludinov, a 25-year-old nephew of the complainant, and two of his friends, Klych Klychev, and Gosein Goseinov, were forced into a car and taken away from Khasavyurt, reports Arsen Magomedov.
On the same day, 26-year-old Shamil Djamaludinov, a Kamil's cousin, left home in his car and also disappeared.
The kidnapped men were not on the police prevention registration lists, reports the website of the HRC "Memorial" with reference to relatives of the disappeared people.
Full text of the article is available on the Russian page of 24/7 Internet agency 'Caucasian Knot'.