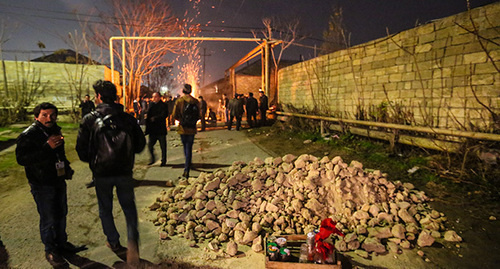 14 October 2016, 00:34
Rights defenders treat 87 people arrested in "Nardaran case" as political prisoners
On October 13, the Public Alliance "Azerbaijan without political prisoners" released a preliminary report on the results of monitoring of the investigation into trial in the "Nardaran case". This was told to the "Caucasian Knot" correspondent by Oktai Gyulalyev, the head of the human rights organization.
"The very initial results of our investigation show that all 87 people arrested in the 'Nardaran case' are not guilty," he said.
The "Caucasian Knot" has reported that on August 3, the Baku Court of Grave Crimes began the trial in the "Nardaran case". Talekh Bagirzade, the leader of the movement "Muslim Unity", and 17 other people were accused of committing a number of grave crimes. The defendants pleaded not guilty and claimed they had confessed under torture.
On November 26, 2015, a special operation was carried out in Nardaran, during which law enforcers detained 14 people, including Talekh Bagirzade. The detention provoked riots, in which seven people were killed.
According to Oktai Gyulalyev, the special operation carried out by the law enforcers was aimed at "destruction of the phenomenon" of Talekh Bagirzade.
"Yes, this is the phenomenon. The man, being a theologian, is able to lead the movement, which is committed to the ideas of construction of a secular democratic state in Azerbaijan," explained the human rights defender.
The second purpose of the special operation, according to Oktai Gyulalyev, was to "pacify" the village of Nardaran, which residents lived their communal way of life and were able to organize a collectively fight for their rights."
According to members of the Public Alliance "Azerbaijan without political prisoners", all the people arrested in the case of the Nardaran events fall under the criteria of the concept of "political prisoners", formulated by the PACE.
Full text of the article is available on the Russian page of 24/7 Internet agency 'Caucasian Knot'.
Author: Faik Medzhid Source: CK correspondent