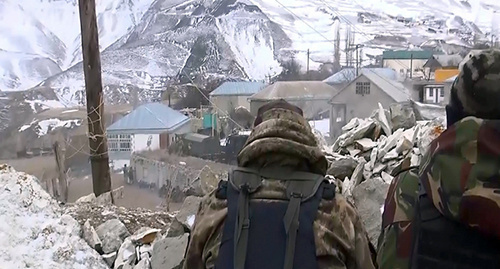 13 February 2017, 00:52
On February 6-12, 2017, no one fell victim to armed conflict in Northern Caucasus
During the week of February 6-12, 2017, no victims to the armed conflict in Northern Caucasus were registered. These are the results of the calculations run by the "Caucasian Knot" based on its own materials and information from other open sources.
Special and counterterrorist operations
At 6:30 a.m. Moscow time of February 7, the chief of the operational headquarters pronounced the decision to introduce the counterterrorist operation (CTO) legal regime within the administrative boundaries of the village of Andi of the Botlikh District of Dagestan. In the village of Andi, law enforcers checked documents of local residents and inspected their houses. No shooting was heard in the village. According to local residents, the ongoing special operation does not significantly affect the life of the village. Children continue going to school as usually, and there are no restrictions on leaving and entering the village. Law enforcers only enhanced checking of documents.
Detentions
On February 9, Mikail Kartoev, a resident of Malgobek, was detained by law enforcers and taken away to some an unknown destination. In the morning, his house was approached by about 50 armed men in masks and camouflage. They refused to introduce themselves and failed to produce their IDs. The armed men refused to answer questions of the hosts to clarify who they were and from where they came. Law enforcers read out a resolution on conducting a search in the Kartoev house; however, they did not show the very document to the Kartoev family members and did leave a copy of it for them. Mikail Kartoev's wife saw how during the search, the law enforcers placed something to her husband's pocket. After he discovered the item in his pocket, they "brought his hands behind his back, handcuffed him, and then took a grenade out of his pocket. After the search of the house, the detainee was forced into a car without state number plates. The law enforcers took him away without answering the questions of his relatives about the place where they wanted to take Mikail to. Thereafter, the family members of Mikail Kartoev appealed to the Division for the Malgobek District of the Ministry of Internal Affairs (MIA). There, they got a confirmation that Mikail had been detained. However, law enforcers said he was not kept at their place. In 2009, Mikail Kartoev was a member of the armed underground for three months. However, he voluntarily surrendered to the law enforcement bodies, and after that, he was found guilty under Article 208 of the Criminal Code of the Russian Federation (involvement in an illegal armed formation (IAF)) and sentenced to imprisonment. His punishment expired on October 16, 2012.