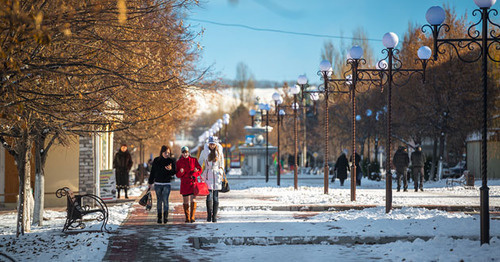 10 March 2017, 20:40
Applications submitted for LGBT actions in cities of the North-Caucasian Federal District
Notifications about the above actions have been submitted to the Department for Interaction with Civil Society Institutes of Kabardino-Balkaria and the Mayoralty of Cherkessk, the "Caucasian Knot" correspondent reports.
The applicants plan to hold a "Nalchik gay parade in support of the tolerant attitude and respect for the rights and freedoms of persons with homosexual orientation and gender minorities in Russia," says the notification signed by Vladimir Klimov, a resident of the Sverdlovsk Region, a copy of which is available at the "Caucasian Knot".
According to the notification, the number of expected participants is 300 persons.
A similar notification was sent to the Mayoralty of the city of Cherkessk with the same number of participants.
The aim of the event is "to draw the attention of the society and authorities to the problems in the sphere of observance of the human rights of homosexuals and gender minorities, as well as to the existing discrimination against homosexuals, homophobia, transphobia, fascism and xenophobia," says the document.
Full text of the article is available on the Russian page of 24/7 Internet agency 'Caucasian Knot'.
Source: CK correspondent