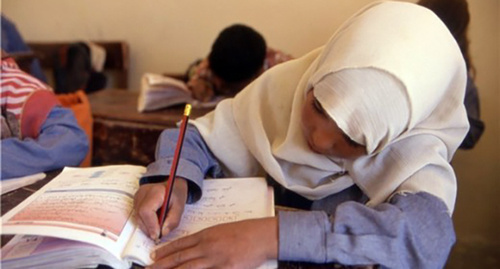 31 March 2017, 08:35
Chechnya adopts law on girls' right to wear hijabs in schools
In Chechnya, MPs have adopted amendments to the Chechen law on education to allow schoolchildren to dress in accordance with their religion.
The "Caucasian Knot" has reported that after the correspondence dispute between Olga Vasilieva, Russian Minister of Education and Science, and Chechen leader Ramzan Kadyrov, the Chechen Parliament has started preparation of the law to formally allow religious attributes in schools. On January 24, Olga Vasilieva stated that in Russian schools, children should not emphasize their religion with symbols, and Ramzan Kadyrov accused the Russian Minister of imposing her personal opinion to the society and arranging a war with hijabs.
On March 30, Chechen MPs adopted in final reading the amendments to the Law "On Education in the ChechenRepublic", concerning the clothing of pupils.
In his report, Bekkhan Khazbulatov, Chairman of the Parliament Committee for Education, Science and Culture, has noted that in accordance with this draft law, the educational policy in the educational organizations of Chechnya should be carried out without infringing the national traditions and religious beliefs of students.
Bekkhan Khazbulatov has also noted that the introduced provision does not contradict Article 38 of the Federal Law "On Education in the Russian Federation".
Full text of the article is available on the Russian page of 24/7 Internet agency 'Caucasian Knot'.