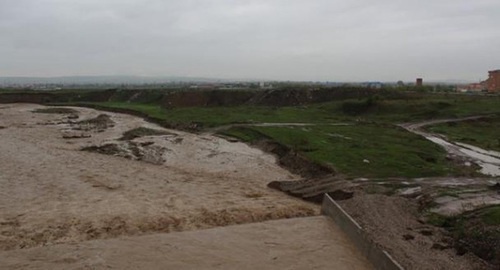 01 July 2017, 04:40
Houses of 105 villagers flooded in Ingushetia
In the village of Ekazhevo, after flooding, 32 private houses were flooded; one person was injured, the Ministry for Emergencies (MfE) reports. According to local authorities, other buildings and communications were also damaged. The Ingush government has promised to help the owners whose houses suffered significant damage.
The "Caucasian Knot" has reported that June 29, because of a shower, the Sunzha River overflowed the banks in Ekazhevo.
Khadjimurad Kotikov, the head of the village administration, said that the mosque, two shopping centres, the school, a half-kilometre section of the road, electricity transmission lines and several sections of the gas pipeline were also damaged.
The downpour flooded houses in Bekov Street inhabited by 105 residents, including 34 children, said Isa Kotiev, an employee of the republic's MfE branch.
The damage inflicted by the disaster in Ekazhevo is being estimated, said the press service of the Permanent Mission of the Republic of Ingushetia under the President of Russia.
During the downpour, water level in the kitchen went up by 20-30 centimetres, said Lyuba M., a resident of Ekazhevo, who lives in Bekov Street.
Full text of the article is available on the Russian page of 24/7 Internet agency 'Caucasian Knot'.
Author: Tatyana Gantimurova Source: CK correspondent