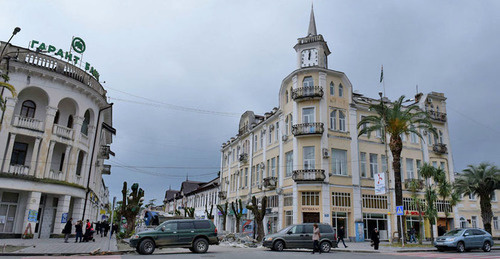 02 August 2017, 14:42
Tbilisi condemns preparations for Vladimir Putin's visit to Abkhazia
The intention of the Russian President to meet Raul Khadjimba in Abkhazia proves the "continuing occupation" of the territory by Russia. This was stated by officials from the Georgian authorities.
Russian President Vladimir Putin will visit Abkhazia on August 8, on the anniversary of the outbreak of hostilities in South Ossetia. This was reported by five sources from the Russian and Abkhaz sides familiar with the organization of the Russian President's visit.
In August 2008, Russia recognized independence of Abkhazia and South Ossetia. Meanwhile, Georgia treats them as its occupied territories.
Ketevan Tsikhelashvili, State Minister for Reconciliation and Civil Equality of Georgia, has regarded the Vladimir Putin's plans to visit Abkhazia as an "ongoing occupation," the "Georgia-Online" reports today.
"This fits into the big picture, it is an ongoing provocation. This is an attempt of de facto annexation by Russia," stated Ketevan Tsikhelashvili as quoted by the "Georgia-Online".
Tengiz Pkhaladze, the adviser to the Georgian President on foreign policy issues, treats the possible trip of Vladimir Putin to Abkhazia a "continuation of the occupation policy," the "InterPressNews" reports today.
"First and foremost, the Vladimir Putin's visit to Abkhazia is a continuation of the policy for occupation exercised by Russia during so much time with regard to Georgia. When it comes to actions of such type, it only inflicts damage once and again, primarily to the image of the Russian Federation," the "InterPressNews" quotes Tengiz Pkhaladze as stating.
Full text of the article is available on the Russian page of 24/7 Internet agency 'Caucasian Knot'.