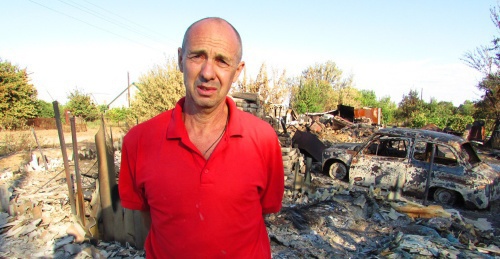 26 August 2017, 07:28
In Volgograd Region, residents of Krasny farm yard report consequences of fire
At the farm yard of Krasny in the Volgograd Region, the fire destroyed about 30 buildings and 17 gardens. All the fire victims were accommodated by their relatives. Local residents hope to receive compensation and assistance from the authorities. However, a lot of them doubt that the assistance will be provided in the near future, since the damage from the fire has not yet been determined.
The "Caucasian Knot" has reported that fires in the Volgograd Region began on August 22. As of August 25, two persons were killed by the fire. The Ministry for Emergencies (MfE) does not exclude the version of arson.
The farm yard of Krasny located on the border of the natural park "Volga-Akhtuba Floodplain" in the Sredneakhtubinsky District suffered from a fire on August 23. Meanwhile, the fire damaged garden plots: fruit trees were burnt down and vegetables on garden-beds were damaged.
Welding operator Alexei from the town of Volzhsky lost a shed, a wooden house, and a garden on the land plot in the farm yard of Krasny.
Irina Kalinkina lives with her husband Victor a hundred meters from the Alexei's destroyed garden. According to the spouses, a tall tin fence protected their house from fire and only the garage was damaged. Meanwhile, the neighbouring land plot completely burned down.
Farmer Yuri Shevtsov believes some houses on the farm yard of Krasny were saved only thanks to the joint work of fire-fighters and local residents.
Natalia Zlobina, an official from the press service for the MfE's Chief Department for the Volgograd Region, has reported that the regime of emergencies is still valid in the region.
Full text of the article is available on the Russian page of 24/7 Internet agency 'Caucasian Knot'.
Author: Vyacheslav Yaschenko Source: CK correspondent