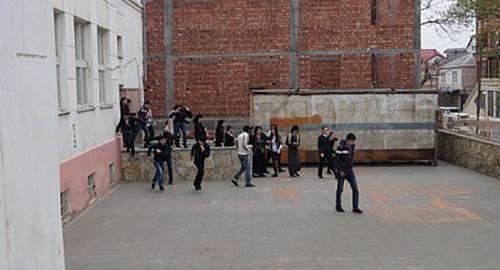 22 September 2017, 11:48
In Makhachkala, schools evacuated because of terrorist threat
In Makhachkala, pupils and teachers of two schools were evacuated after messages on undermining. Such messages were also got by four schools in Makhachkala.
"In Makhachkala, pupils and teachers of the lyceum No. 5 and the school No. 8 were evacuated after the calls reporting undermining," the TASS reports with reference to the Makhachkala Education Department.
Schoolchildren and teachers were also evacuated from the schools No. 10 and 29, reported a source from the law enforcement agencies as quoted by the "AiF-Dagestan".
The calls reporting undermining of schools in Makhachkala come from Ukraine, the "Interfax-South" reports with reference to a source.
The "Caucasian Knot" has reported that starting from September 11, messages on undermining of buildings regularly come to phones in different cities of Russia. On September 11, mass evacuation was held in Stavropol, on September 19 in Krasnodar, Volgograd, Astrakhan, and Rostov-on-Don, and on September 20 in Vladikavkaz and Nalchik. In all the cities, those messages were not confirmed.
Full text of the article is available on the Russian page of 24/7 Internet agency 'Caucasian Knot'.