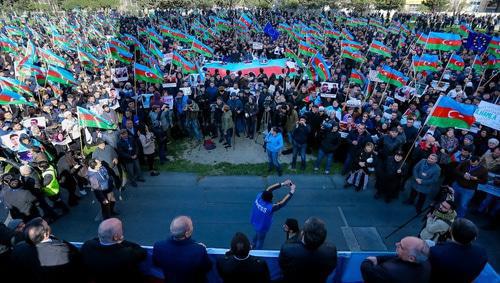 31 March 2018, 15:09
Opponents of early election go out to rally in Baku
Participants of the joint rally, organized by the oppositional National Council of Democratic Forces (NCDF), the Popular Front Party of Azerbaijan (PFPA) and the "Musavat" Party, have demanded to cancel the early presidential election and release all the political prisoners on Azerbaijan.
The "Caucasian Knot" has reported that the presidential election in Azerbaijan was scheduled for October 17, 2018. However, on February 5, Azerbaijani President Ilham Aliev appointed early elections on April 11, without presenting any reasons for the move.
The rally started today at 3:30 p.m. at the stadium of the sports and recreation complex of the Yasamal District of Baku. First, the national anthem was performed; then the participants of the rally paid a minute of silence to commemorate the victims of the March 31 genocide.
Protesters are holding the posters reading: "Free elections!", "No to corruption!", "No to monarchy!", "When sanctions follow, Russia won't help!", "Extraordinary dictatorship!" and "Freedom to political prisoners!" Besides, the protesters hold portraits of political prisoners, and flags of Azerbaijan and the European Union.
Part of the posters is dedicated to the Day of Azerbaijanis' Genocide, as well as to the Karabakh conflict: "Where are the results of peace talks?", "We condemn Armenian terrorism!"
The rally has attracted about 2500 people, the "Caucasian Knot" correspondent reports.
Full text of the article is available on the Russian page of 24/7 Internet agency 'Caucasian Knot'.
Author: Faik Medzhid Source: CK correspondent