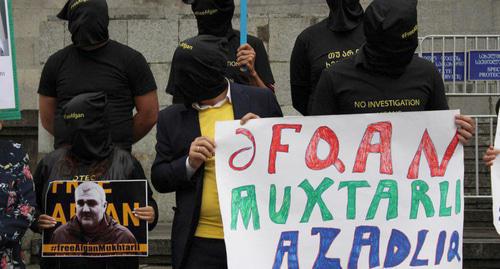 30 May 2018, 12:55
Supporters of Azerbaijani journalist Mukhtarly demand to investigate his kidnapping
On May 29, one year after kidnapping of Azerbaijani journalist Afghan Mukhtarly, an action was held in Tbilisi in his support. Authorities are unable to hold a full-fledged inquiry, political analysts believe.
The "Caucasian Knot" has reported that Mukhtarly was kidnapped in Tbilisi in May 2017 and brought to Baku. On January 12, 2018, the court sentenced him to six years in prison on charges of illegally crossing the border, smuggling and resisting a state official.
Today, about 30 persons have gathered outside the Georgian Parliament and demanded an efficient investigation into Mukhtarly's case.
Rusudan Mchedlishvili, an advocate, has noted that it has not yet been established who and how kidnapped the journalist.
Sulkhan Saladze, the chairman of the NGO "Association of Young Lawyers" has treated the investigation into Mukhtarly's case as non-transparent.
"The more time passes, the greater is the negative affect on the country's image," he said.
"Mukhtarly's case is touching on our country's main strategic partner; and any clumsy step can damage the Georgian-Azerbaijani relations," said Ramaz Sakvarelidze, a political expert of the Club of Independent Experts.
In his turn, Zaal Andjaparidze, an analyst, believes that the investigation can reveal the facts that will show Georgian authorities in some "impartial light" – involved in kidnapping of the journalist.
Full text of the article is available on the Russian page of 24/7 Internet agency 'Caucasian Knot'.
Author: Inna Kukudjanova Source: CK correspondent