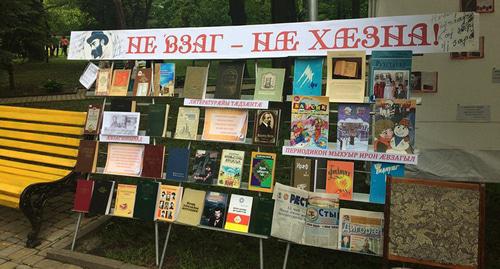 18 June 2018, 08:03
Experts note successful practice of teaching Ossetian to children
A practice of teaching children in kindergartens and schools both in Russian and in Ossetian languages showed good results, note teachers and scientists. The authorities of North Ossetia announced the large-scale introduction of a bilingual education system.
The polylingual system of education, involving teaching pupils in Russian and Ossetian has been implemented in the republic for more than 10 years, and now one school and 10 pre-school educational institutions work under the polylingual system, the "Caucasian Knot" correspondent was informed by Lyudmila Basharina, Deputy Minister for Education and Science of North Ossetia.
At a meeting of the commission for preservation and development of the Ossetian language under the leader of the republic, Irina Azimova, Minister for Education and Science of North Ossetia, has reported that since the new academic year, teaching and training under the polylingual system is planned to be introduced in 16 schools and 23 pre-school institutions in North Ossetia. According to the Minister, in due course, the list of such educational institutions will be expanded.
The polylingual system has shown good results, and children who graduated from the school with that education system fluently speak several languages, noted Professor Ruslan Bzarov, PhD in History, the director for the Institute of History and Archaeology.
"The experiment of the system at the local and federal levels has been impressively successful. The first children who went to the first class with the experimental polylingual system finished the school last year. They have got no effect of dual personality, and they know perfectly well both Russian and Ossetian languages," said Professor Ruslan Bzarov to the "Caucasian Knot" correspondent.
Full text of the article is available on the Russian page of 24/7 Internet agency 'Caucasian Knot'.
Author: Gor Aleksanyan Source: CK correspondent