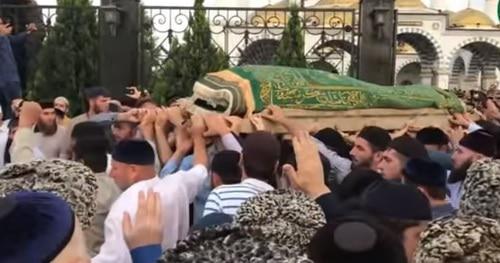 06 August 2018, 11:57
Ramzan Kadyrov calls verdict to Yusup Temirkhanov a judicial error
On the day of the funeral of Yusup Temirkhanov, who was serving his sentence in a penal colony, the leader of Chechnya declared that the convict had not been involved in the murder of Yuri Budanov. Meanwhile, Ramzan Kadyrov admitted that the sentence made Yusup Temirkhanov a national hero, who "took revenge for the desecrated honour" and the murder of Elza Kungaeva, a Chechen young woman.
The "Caucasian Knot" has reported that on August 3, the Federal Penitentiary Service (known as FSIN) reported that Yusup Temirkhanov, who was serving his sentence in the penal colony in Omsk, died in the hospital. Tens of thousands of people gathered in the Geldagan village in the Kurchaloi District to express their condolences to relatives of 48-year-old Yusup Temirkhanov. On August 4, he was buried at a cemetery in his family village.
"For Chechen people and millions of young people from other regions, the sentence of Yusup Temirkhanov and his imprisonment made him a man who took revenge for the abuse of Elza Kungaeva and her murder by Yuri Budanov," Ramzan Kadyrov wrote on his page in VKontakte.
Ramzan Kadyrov has emphasized that "every resident of Chechnya perceived the murder of Elza as a personal insult."
"Judicial errors happen all over the world. And Yusup Temirkhanov is not the only person who suffered inhuman trials and hardships because of that. Meanwhile, he retained his honour, courage, and dignity, and he was strong enough not to take on someone else's guilt and not to confess to the crime he never committed," the leader of Chechnya noted.
This article was originally published on the Russian page of 24/7 Internet agency 'Caucasian Knot' on August 5, 2018 at 00:33 am MSK. To access the full text of the article, click here.