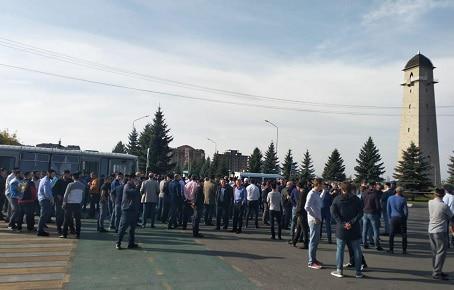 04 October 2018, 13:34
Ingush residents start protesting against transfer of lands to Chechnya
Participants of a protest action went to the centre of Magas, reported Ingush activists. Law enforcement forces are accumulated in the capital of Ingushetia, reported Magomed Mutsolgov, a blogger of the "Caucasian Knot".
On October 3, the law enforcement bodies warned Ingush activists against launching new protest actions in connection with the change in the Chechen-Ingush border. However, social networks disseminated a call to gather on the day of the Ingush parliament session. Against that background, the Ingush activists reported that the mobile Internet had been disconnected.
Residents of Ingushetia are gathering in Magas, reports on Facebook Ruslan Mutsolgov, the chairman of the "Yabloko" regional branch in Ingushetia. According to him, people come to Magas from all over the republic.
Ingush activist Musa Abadiev reported on Facebook about a column of people "led by gray-bearded old men chanting salavats (prayer with the blessing of the Prophet Muhammad, note of the "Caucasian Knot")."
Magomed Mutsolgov, the leader of the human rights organization "Mashr" in Ingushetia, reports that about 200-300 people have come to the rally.
This article was originally published on the Russian page of 24/7 Internet agency 'Caucasian Knot' on October 4, 2018 at 10:00 am MSK. To access the full text of the article, click here.