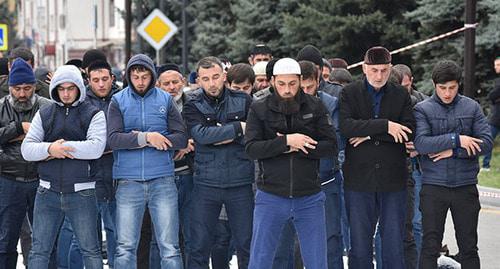 09 October 2018, 00:57
Kremlin disavows responsibility for situation in Ingushetia
The Kremlin is closely monitoring the situation in Ingushetia, where opponents of the agreement on the Ingush-Chechen border hold protest rallies, Dmitry Peskov, the press secretary of the Russian President, has stated today. According to his story, so far, the republic's leadership is doing all the work.
The "Caucasian Knot" has reported that since October 4, a mass rally in protest against the change of the border with Chechnya is on in the city of Magas, the capital of Ingushetia, in the round-the-clock mode. Today, protesters moved to a new place, where the rally was sanctioned. They said that tonight about 1000 people would stay in place to take care of the property, despite the fact that the protest rally had been sanctioned only until 10:00 p.m. Moscow time.
Today, Dmitry Peskov has commented on the situation in Ingushetia. When asked whether the Kremlin is worried about the situation there, where the protest has been on for several days, and whether the Kremlin will somehow intervene in the situation, Mr Peskov replied: "We certainly are carefully monitoring the developments and receive information from the republic's leadership. So far, the work is being done by the republic's leadership," the "Interfax" quotes Dmitry Peskov as saying.
"The main point for us is that everything remains within the constitutional field and within the bounds of the law," Dmitry Peskov told reporters, while refusing to talk about any Kremlin's position regarding the Chechen-Ingush border.
This article was originally published on the Russian page of 24/7 Internet agency 'Caucasian Knot' on October 8, 2018 at 08:20 pm MSK. To access the full text of the article, click here.