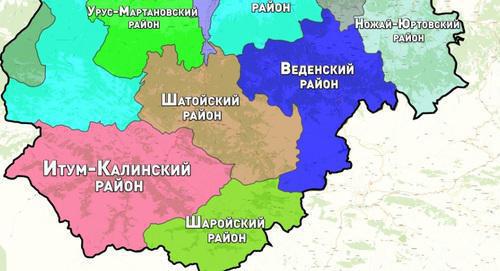 11 November 2018, 11:13
Chechen authorities ascribe Dagestani territories in a new map
The new map of Chechnya, posted with account of the agreement on the Chechen-Ingush border, show Lake Kezenoy-Am, located on the Chechen-Dagestani border, as well as a part of the territory near the Dagestani village of Ansalta, within the territory of Chechnya, the "Novoe Delo" wrote on November 10.
The "Caucasian Knot" has reported that a new map of Chechnya, showing the territories that the republic should acquire under the border agreement with Ingushetia, was posted on the website of the Chechen Parliament on November 8.
After the new map was posted, it turned out that part of the territory of Dagestan was also depicted in a modified form.
Lake Kezenoy-Am, located on the border of the Vedeno District of Chechnya and the Botlikh District of Dagestan, on the southern slope of the Andean Ridge and belonging to the Sulak River basin, is shown on the map as completely within the borders of the Chechen Republic. The border near the village of Ansalta of the Botlikh District was also changed – with the inclusion of a significant territory into Chechnya, says the article "New Map of Chechnya Touches Dagestan Too", posted on the website of the "Novoe Delo" today.
Alvi Karimov, the press secretary of the head of Chechnya, Ramzan Kadyrov, whom the edition could reach by phone, when asked to comment on the situation with the new map, advised to address the press service of the Chechen Parliament, however, calling to the phone numbers listed on the website of the Chechen Parliament gave no fruit, the article says.
This article was originally published on the Russian page of 24/7 Internet agency 'Caucasian Knot' on November 10, 2018 at 10:51 pm MSK. To access the full text of the article, click here.