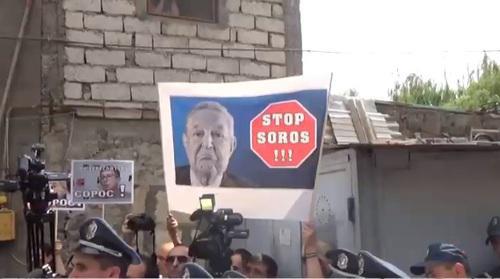 04 June 2019, 11:07
Police stop protest action at Soros Foundation office in Yerevan
Several dozen participants gathered for a protest action in front of the office of the branch of the "Open Society Institute-Assistance Foundation" (known as "Soros Foundation") in Yerevan. However, policemen did not allow protesters to approach the building by blocking the access with cordons.
On June 3, members of the "Veto" movement gathered in front of the Armenian branch of the Soros Foundation. The action was organized by Narek Malyan, a former adviser to the head of the Armenian Police, the "Caucasian Knot" correspondent reports from the venue.
At night on March 4, student activists grabbed Narek Malyan and tried to throw him into a trash container: he was their opponent in the conflict around the resignation of the rector of the Yerevan State University (YeSU). According to Malyan, the Restart group, which is funded by the Soros Foundation, claimed responsibility for the attack.
The protestors held posters reading "Stop Soros!", "Beware, Soros!" and photos of George Soros, Larisa Minasyan, the head of the Armenian branch of the Foundation, and of some officials, who, in the opinion of activists, always received direct funding from the Soros Foundation.
Activists planned to block the entrance to the office of the Foundation, but the police blocked their way with several cordons, not allowing them to approach the building.
About 40 activists took part in the action, the police told the "Caucasian Knot" correspondent.
This article was originally published on the Russian page of 24/7 Internet agency 'Caucasian Knot' on June 4, 2019 at 05:46 am MSK. To access the full text of the article, click here.
Author: Armine Martirosyan Source: CK correspondent